Strait City Trading is closed!
No more orders will be shipped. Many thanks for your business over the years!
Rhinestone Belts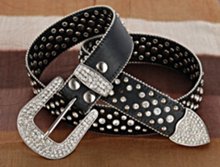 Rhinestone and metal studded leather belts and buckles. Three basic belt styles in the pages below.
Concho rhinestone belts. Western rhinestone belts with conchos or medallions evenly spaced along strap
Wide rhinestone belts. Western buckles with engraving and rhinestones, 1-1/2" wide belt straps with lots of shiny stones and studs
Skinny rhinestone belts. New York style narrow belt straps with big stones, splashy buckles, some with lots of stones but still inline with belt strap
Rhinestone buckles. Western style rhinestone and scroll work buckles attached to plain or embossed leather belts.
Rhinestone chain belts may be found on this page:

.
The links below and the menu to the left will take you to displays of our products.
---
Catalog
---
Cheap fast shipping
$3.76 for a buckle or scarf or most belts. Save more on combined orders. Shipping details.