Possible Shipping Delays
Strait City Trading is moving a mile down the road this week and next. We expect some shipments to be delayed during the process. Posted July 29, 2020.
Straps for Buckles, Suede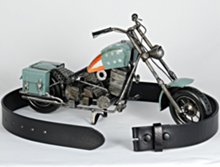 Strait City Trading's selection of buckle belt straps. All have snap closures for removable belt buckles. Select a buckle from our
urban buckles
pages or our
USA buckles
pages or add your own.
Suede leather straps in rich colors.
About sizing: The size strap you want will depend on the size of buckle put on the belt. That is, less belt is needed for longer buckles. Size choices for the straps are the actual length of the strap from base to middle belt hole. The middle belt hole is about 6 inches from the tip of the belt.

1-1/2" wide suede leather straps for removable buckles, triple snaps, leather retainer loop
Item
Color
Size
Price
Qty

1-1/2" wide suede leather straps for removable buckles, triple snaps, leather retainer loop
Item
Color
Size
Price
Qty

1-1/2" wide suede leather straps for removable buckles, triple snaps, leather retainer loop
Item
Color
Size
Price
Qty
---