USA Buckles, Horse & Horseshoe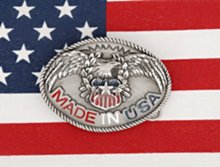 Buckles for 1-1/2 inch belts celebrating life in the USA, designed in the USA, made in the USA. Look here for western buckles, biker buckles, outdoorsman buckles, buckles that commemorate (or tease) southern heritage, native American heritage, Christian culture, and the US armed forces.
Click to browse our visual directory of belt buckles:

.
Click to browse our selection of 1-1/2" belt straps that fit our buckles:

.
Horses and horseshoes. If it's western, you can have flags and stars, arrowheads and fancy foliage, but somewhere there's got to be a horse, and we've got them here on these handsome pewter buckles. We have a few more buckles with horses and tack on the Western Life and Western Grace and Western Buckles pages.
---