Chain Belts, Hoops & Hearts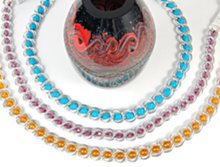 Chain belts.
All these belts present a bright gleam, a flash, a glint to accentuate movement and attract the eye.
Sizing. These chain belts are all "one size fits most". They are made from a length decorative hoops and rings with a chain extension which makes them adjustable for many waist sizes and wearing positions.

gold double ring chain belt, concentric rings spaced by four rhinestones, diamond-cut rings give rattan effect
Item
Color
Size
Price
Qty

chain belt, smooth raised 1" circular links with narrow horizontal oval "cat eye" cut-outs, twisted chain extension with ball tip
Item
Color
Size
Price
Qty
---