Sequins, Beads & Foil, Wood Bead Scarves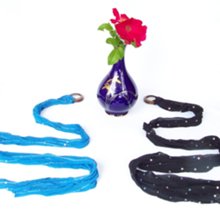 Here is a variety of bags, belts and sashes, some with scattered sequins for accent, others just covered with glittering colored sequins, some with interwoven foil thread, and some with beads of wood or gaudy colored plastic.
Our long skinny beaded summer scarves are shown on this page.

Crocheted in segments and strung with 10 strands of 3/16" wooden beads, these scarves are 64" long plus a 4" to 6" fringe at ends.

(Click to enlarge.)
Sometimes they are worn as ornamental scarves about the shoulders, or even as necklaces closer about the neck, and sometimes they are wrapped about the waist and knotted as fringed belt sashes.
Tropical, Bohemian, gypsy, whimsical or fancy free, summer fun on a string. Click through the photos behind the thumbnails below and see how nice these sashes look!

beige and brown wooden beads sewn into long skinny spring black crochet scarf, 72" long with 6" fringe at each end
Item
Color
Size
Price
Qty
---