Strait City Trading is closed!
No more orders will be shipped. Many thanks for your business over the years!
Chain Belts, Braided Chain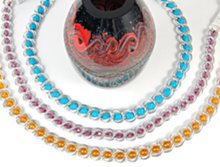 Chain belts.
All these belts present a bright gleam, a flash, a glint to accentuate movement and attract the eye.
These belts are chain belts with strands of velvet or man-made leather woven into the chain links.
---