Shipping Pause
Strait City Trading will not be shipping during the two weeks starting May 9th and ending May 23rd. Email and phones will be monitored. Thank you for your business.
Chain Belts, Braided Chain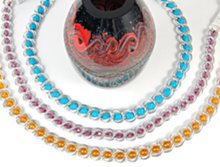 Chain belts.
All these belts present a bright gleam, a flash, a glint to accentuate movement and attract the eye.
These belts are chain belts with strands of velvet or man-made leather woven into the chain links.
---