Strait City Trading is closed!
No more orders will be shipped. Many thanks for your business over the years!
Men's Leather Belts, Embossed Dress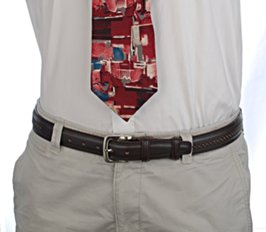 Embossed leather belts.
For dress or casual wear. Croc or pitted or checkerboard patterns to choose from. Or try our newest style, three patterns, snake-skin, lizard and aligator side-by-side in a single belt.
Modern technology and globalization combine to make most of the attractive, serviceable leather belts on this page available for less than $7.00. More information about the costs and benefits of budget leather belts may be found here: budget vs. premium belts.
For more animal print embossed belts see our exotic embossed dress belts page or our colorful dress belts page.

1-1/8" brown leather dress belt, supple alligator skin embossed, 1-1/2" by 1-1/2" brass finish buckle, single stitched edge and keeper
Item
Color
Size
Price
Qty

1-1/8" black leather dress belt, supple alligator skin embossed, 1-1/2" by 1-1/2" brass finish buckle, single stitched edge and keeper
Item
Color
Size
Price
Qty

1-1/8" tan leather dress belt, supple alligator skin embossed, 1-1/2" by 1-1/2" brass finish buckle, single stitched edge and keeper
Item
Color
Size
Price
Qty
---