Strait City Trading is closed!
No more orders will be shipped. Many thanks for your business over the years!
Fabric Belts, Double Grommet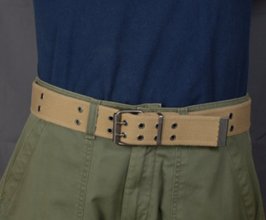 Double Grommet Web Belts.
These are military-inspired canvas belts with double rows of eyelets over the entire belt length with matching double pickup rectangular roller buckles. The webbing is cotton for our cargo and premium double grommet belts and acrylic synthetic cotton for our value line.
The cargo belts have 7-8 inches of eyelets at the belt tip to give a wide range fitting choices:

For a side-by-side comparison of our value line with a similar belt from Sears click here.
You may also be interested in our PU synthetic leather double eyelet belts here:

.
Sizing. Numerical sizes refer to waist size; actual belt strap length is 5 to 6 inches longer.
---