Sequins, Beads & Foil, Sequin Foil Sashes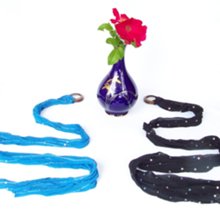 Here is a variety of bags, belts and sashes, some with scattered sequins for accent, others just covered with glittering colored sequins, some with interwoven foil thread, and some with beads of wood or gaudy colored plastic.
These double-sided sequined foil sashes have foil interwoven into the fabric as well as tiny sequin foil disks glued securely to the surface, all to add the dance of light to the color underneath. Click this picture to see exactly how its done:

.
---