USA Buckles, Pride Flags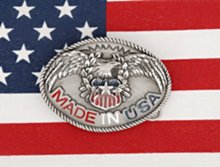 Buckles for 1-1/2 inch belts celebrating life in the USA, designed in the USA, made in the USA. Look here for western buckles, biker buckles, outdoorsman buckles, buckles that commemorate (or tease) southern heritage, native American heritage, Christian culture, and the US armed forces.
Click to browse our visual directory of belt buckles:

.
Click to browse our selection of 1-1/2" belt straps that fit our buckles:

.
Flags buckles. Old glory, land of enchantment, lone star state, home of the brave, Estados Unidos Mexicanos, Canada and Puerto Rico. Plus the coolest flag in the south: South Carolina's crescent moon and palmetto tree.
---