Strait City Trading is closed!
No more orders will be shipped. Many thanks for your business over the years!
Leather Belts, Exotic Embossed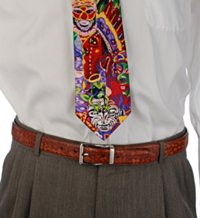 Embossed leather belts.
Crocodile and alligator, snakeskin and tortoiseshell, lizard and ostrich skin. Exotic animal skin patterns embossed on these inexpensive leather dress belts. Mostly blacks and browns, tans and taupes, cognac and burgandy with olive, navy blue and white for a little variety here. For more adventurous colors and buckles, try our
colorful dress belt
page.
Sizing note: These belts may be ordered to size, or may be cut to fit. Sizes are waist sizes (actual length of belt strap less 5 inch overhang). For cut-to-fit instructions click here.
---