Sequins, Beads & Foil, Beaded Sash Belts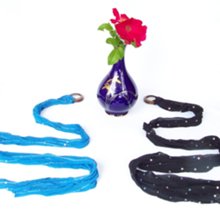 Here is a variety of bags, belts and sashes, some with scattered sequins for accent, others just covered with glittering colored sequins, some with interwoven foil thread, and some with beads of wood or gaudy colored plastic.
Our bead sash belts are displayed here; 10 strings of colored beads in segments, with braided tie. All the rage on Florida beaches this year.
These bead sashes are all one size, 66 inches in all, beads, ties and tassels. Click this picture to see beaded length:

, and this one to see the length of the braided tie and tassel:

.
They're really a variation on the Native American choker design; check this site to see what we mean:

.

1-3/4" wide black bead sash, 24" of 10 string segments of colored beads, 6-1/2" braided ties, 12" tassles
Item
Color
Size
Price
Qty

1-3/4" wide yellow bead sash, 24" of 10 string segments of colored beads, 6-1/2" braided ties, 12" tassles
Item
Color
Size
Price
Qty

1-3/4" wide copper bead sash, 24" of 10 string segments of colored beads, 6-1/2" braided ties, 12" tassles
Item
Color
Size
Price
Qty
---