Strait City Trading is closed!
No more orders will be shipped. Many thanks for your business over the years!
Urban Belt Buckles, Lions & Tigers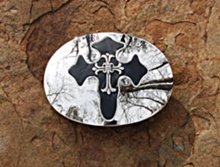 Click to browse our visual directory of belt buckles:

.
Click to browse our selection of 1-1/2" belt straps that fit our buckles:

.
Lions and tigers have always been popular talismans. These buckles reflect some of these; western style, Italian Renaissance and heraldic, even comic Aztec and hip-hop takes on the king of beasts.
---