Shipping Pause
Strait City Trading will not be shipping during the two weeks starting May 9th and ending May 23rd. Email and phones will be monitored. Thank you for your business.
Chain Belts, Mesh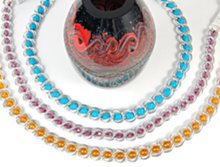 Chain belts.
All these belts present a bright gleam, a flash, a glint to accentuate movement and attract the eye.
Metallic mesh chain belts, many with rhinestone accented buckle or medallion.
Sizing: Chain belts with lobster hook and extension chain are given by total length in two parts, decorative length and extension length. Buckle belts are given by approximate waist size, total belt length less about 6"" overhang.
---