Possible Shipping Delays
Strait City Trading is moving a mile down the road this week and next. We expect some shipments to be delayed during the process. Posted July 29, 2020.
Chain Belts, Oval Shapes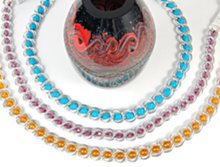 Chain belts.
All these belts present a bright gleam, a flash, a glint to accentuate movement and attract the eye.
These chain belts are all "one size fits most". They are 29 to 32 inches of decorative rings and ovals with a 10 to 15 inch chain extension and pendant which makes them adjustable for waist sizes and wearing positions in the 30" to 40" range.

chain belt, mirror "race track" ovals, 1-1/2" by 1-1/4" smooth rings linked with figure eight clasps, simple twist extension chain with silver ball tip
Item
Color
Size
Price
Qty

chain belt, big smooth reflective 1-3/4" by 1-1/4" oval conchos linked together, lobster clasp, simple twist extension chain with silver ball tip
Item
Color
Size
Price
Qty

silver chain belt made of 29 inches of 5/8"-wide ovals and 14 inches of chain with heart-shaped pendant
Item
Color
Size
Price
Qty
---