Strait City Trading is closed!
No more orders will be shipped. Many thanks for your business over the years!
Chain Belts, Oval Shapes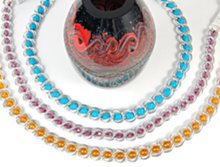 Chain belts.
All these belts present a bright gleam, a flash, a glint to accentuate movement and attract the eye.
These chain belts are all "one size fits most". They are 29 to 32 inches of decorative rings and ovals with a 10 to 15 inch chain extension and pendant which makes them adjustable for waist sizes and wearing positions in the 30" to 40" range.

chain belt, mirror "race track" ovals, 1-1/2" by 1-1/4" smooth rings linked with figure eight clasps, simple twist extension chain with silver ball tip
Item
Color
Size
Price
Qty

chain belt, big smooth reflective 1-3/4" by 1-1/4" oval conchos linked together, lobster clasp, simple twist extension chain with silver ball tip
Item
Color
Size
Price
Qty

silver chain belt made of 29 inches of 5/8"-wide ovals and 14 inches of chain with heart-shaped pendant
Item
Color
Size
Price
Qty
---