USA Buckles, Motorcycles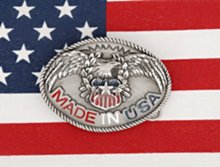 Buckles for 1-1/2 inch belts celebrating life in the USA, designed in the USA, made in the USA. Look here for western buckles, biker buckles, outdoorsman buckles, buckles that commemorate (or tease) southern heritage, native American heritage, Christian culture, and the US armed forces.
Click to browse our visual directory of belt buckles:

.
Click to browse our selection of 1-1/2" belt straps that fit our buckles:

.
Motorcycle buckles. 3-D Motorcycles in profile. some with USA, rebel or Texas flag colors in the background, and some a little more, well, brash: a sly wink at Harleys and a red flag of a completely different kind.
---