Strait City Trading is closed!
No more orders will be shipped. Many thanks for your business over the years!
Fabric Belts, Leather Tabs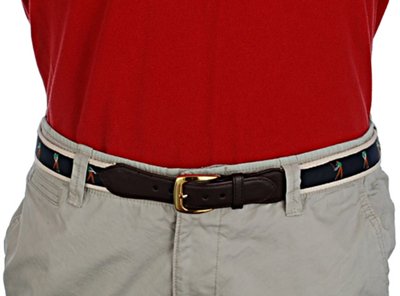 ""Natural" white web belt with leather tabs and embroidered fabric overlay.
The tabbing is single stitched with a leather retainer loop, 3" at the buckle and nearly 7" at the tip. There are 5 belt holes spread over 2-1/2". Click photo for a better look:

Each belt has a navy blue fabric ribbon sewn on along the entire length of the belt. These ribbons have small sporting figures and ensignia embroidered in. Click photo for a magnified view:

The backing for these belts is heavy-duty fabric webbing with a nice cotton feel; click this photo for a detailed close-up:

Sizing Note: These belts are listed by waist size. "Waist size" means belt strap length from buckle fold to middle belt hole. Buy about 2" larger than your natural waist size.

1-1/4" wide canvas belt with leather-look tabbing, colorful mahi-mahi game fish embroidered on indigo blue ribbon sewn to navy blue webbing, gold-tone buckle. Sizing: buy an inch or two larger than your waist size
Item
Color
Size
Price
Qty

1-1/4" wide canvas belt with tan leather-look tabs and gold buckle, jaquard navy blue ribbon with maritime signal flags sewn on sturdy natural color canvas webbing
Item
Color
Size
Price
Qty
---