Strait City Trading is closed!
No more orders will be shipped. Many thanks for your business over the years!
Chain Belts, Chain with Tabs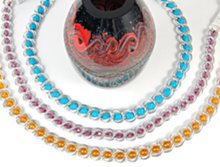 Chain belts.
All these belts present a bright gleam, a flash, a glint to accentuate movement and attract the eye.
Chains with tabs: double chain links with leather tabs and shiny buckles, most with colored stones inset in links. Tabs and chains are 3/4" wide; the western style "squash blossom" buckle is 1-1/2" wide.
One size only: fits 32" to 36" leaving an inch for clothes.
---