Possible Shipping Delays
Strait City Trading is moving a mile down the road this week and next. We expect some shipments to be delayed during the process. Posted July 29, 2020.
Chain Belts, Textured Chain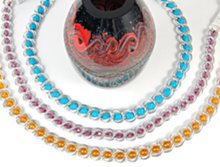 Chain belts.
All these belts present a bright gleam, a flash, a glint to accentuate movement and attract the eye.
Textured chain link belts. These chain link patterns are popping up everywhere this season, and our belts are amazingly light: aluminum, not heavy iron. And look at our choice of colors!
Each style comes in one size only. Sizes allow 2" for clothing and at least 4" vertical hang.
Click through thumbnails for close-up view of chain texture.

chain belt: double twisted smooth black and gold links with medallion gold and big opal buckle; extension chain comprises embossed gold chain links tipped by small ball; 1" max width, 28" decorative chain, 43" total length
Item
Color
Size
Price
Qty

chain belt: smooth double twisted silver links with round violet beads strung through centers; extension chain comprises small embossed silver chain links tipped by violet bead; 3/4" max width, 27" decorative chain, 43" total length
Item
Color
Size
Price
Qty
---