Strait City Trading is closed!
No more orders will be shipped. Many thanks for your business over the years!
Chain Belts, Rhinestones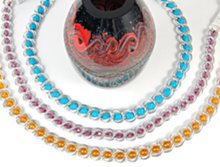 Chain belts.
All these belts present a bright gleam, a flash, a glint to accentuate movement and attract the eye.
These are adjustable chain belts. Single, double, even triple glittering rhinestone strings in gold or silver tone. Heart and frame, circle and oval shapes with a chain extension and pendant.
Related: skinny leather rhinestone belts.
---