Braided Stretch Belts, Premium Tabbing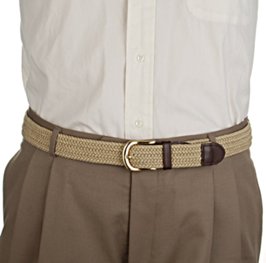 Premium Stretch Belts. What do you get for an extra few bucks? These belts come with better tabbing, better stitching, and nicer buckles.
That is genuine leather used for the buckle attachment and belt tip, better attention to detail on the stitching, better quality braiding, solid brass or quality crafted nickel buckles.
Click the icons below to get a closer look.
Both regular and big & tall sizes on this page.
Sizing. Numbers refer to waist sizes. Actual belt length, without the buckle, is about 6 inches longer. There are no belt holes; the buckle prong slips through the braiding wherever desired. Illustrating graphic:

---