Shipping Pause
Strait City Trading will not be shipping during the two weeks starting May 9th and ending May 23rd. Email and phones will be monitored. Thank you for your business.
Scarves & Shawls, Knit Scarves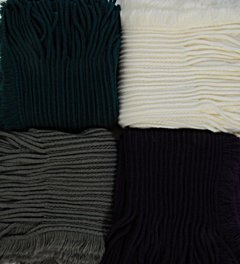 Knitted Scarves.
Comfortable soft and warm knit acrylic scarves.
Chunky, fisherman and fringe designs in basic solid colors.
At 16 inches wide, the fringe scarves can be used as a light knitted shawls, too.
---