Strait City Trading is closed!
No more orders will be shipped. Many thanks for your business over the years!
Leather Belts, Braided Leather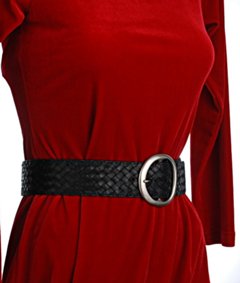 Braided Leather.
Thick and thin braided leather belts. Wider for high waist, thinner for jeans and pants with loops.
Sizing: Where the buckle prong fits between the braids, waist sizes are taken to be 6 inches shorter than belt strap length.

2" wide black plaited leather high waist belt, asymmetric round pewter center bar buckle
Item
Color
Size
Price
Qty

skinny studded plaited leather belt, 3/4" wide, brown with tiny nickel and brass studs, nickel buckle and braided retainer loop
Item
Color
Size
Price
Qty
---