Strait City Trading is closed!
No more orders will be shipped. Many thanks for your business over the years!
USA Buckles, Liberty or Death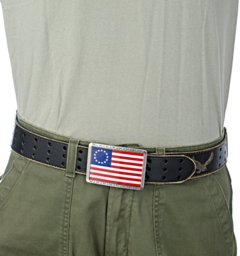 Rebellious Buckles.
Flags and symbols from the American and Texas Independence wars.
Clear epoxy decals of historical flags and emblems on a rectangular pewter western buckle. All fit belt straps 1-1/2" to 1-3/4" wide. All have stars and crossed swords embossed border. All have the American revolutionary rattlesnake embossed on back:

.
Pictured 1-3/4" belt may be purchased here. A nice historical reference for these and many more flags may be found here and here.
Many other flag and commemrorative buckles are available. Here is a good place to start:

.

western belt buckle, American independence: Willard's Spirit of '76 iconic painting, clear coat epoxy decal on rectangular pewter buckle
Item
Color
Size
Price
Qty

western belt buckle, American independence: US Constitution preamble "We the People" with US flag background, clear coat epoxy decal on rectangular pewter buckle
Item
Color
Size
Price
Qty

western belt buckle, American independence: variation on Colonel Moultrie's militia flag of 1775, crescent and "Liberty" in white on navy blue field, clear coat epoxy decal on rectangular pewter buckle
Item
Color
Size
Price
Qty
---