Braided Stretch Belts, Leather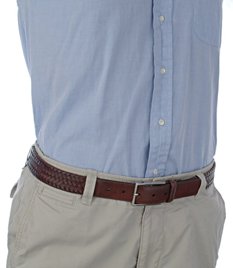 Plaited Leather.
Handsome braided leather belt with elastic reinforcement along the edge—firm but with a "give" for comfort, extra-wide for support.
New. Premium style. Genuine split leather tabs and tails, no filler. German bonded leather plaiting strips—European bonded leather standard requires higher leather content which makes it stronger and longer lasting.
Extended sizing for standard belts: Sizes 30 to 50 available.
Sizing. Numbers refer to waist sizes. Actual belt strap length, without the buckle, is about 5-1/2 inches longer. Illustrating graphic:

**Please note**: The premium belts run an inch short. That is, the belt size assumes an inch stretch. Buy a size up when in doubt.

premium dark brown plaited leather stretch belt, 1-3/8" medium wide, with elastic cords along edges, solid split cowhide buckle tabbing and tail, no filler, German bonded leather strips for plaiting, slightly curved rectangular brushed nickel buckle
Item
Color
Size
Price
Qty

premium brown plaited leather stretch belt, 1-3/8" medium wide, with elastic cords along edges, solid split cowhide buckle tabbing and tail, no filler, German bonded leather strips for plaiting, slightly curved rectangular brushed nickel buckle
Item
Color
Size
Price
Qty

premium black plaited leather stretch belt, 1-3/8" medium wide, with elastic cords along edges, solid split cowhide buckle tabbing and tail, no filler, German bonded leather strips for plaiting, slightly curved rectangular brushed nickel buckle
Item
Color
Size
Price
Qty
---