Strait City Trading is closed!
No more orders will be shipped. Many thanks for your business over the years!
Chain Belts, Millstone Circles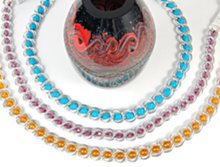 Chain belts.
All these belts present a bright gleam, a flash, a glint to accentuate movement and attract the eye.
Brightly colored millstone circle links. Traditional circles reinvented in ultra-light aluminum chains.
Each style comes in one size only. Sizes allow 2" for clothing and at least 4" vertical hang.
Click through thumbnails for close-up view of chain texture.
---