USA Buckles, Western Grace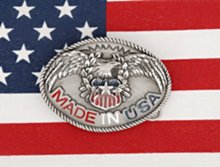 Buckles for 1-1/2 inch belts celebrating life in the USA, designed in the USA, made in the USA. Look here for western buckles, biker buckles, outdoorsman buckles, buckles that commemorate (or tease) southern heritage, native American heritage, Christian culture, and the US armed forces.
Click to browse our visual directory of belt buckles:

.
Click to browse our selection of 1-1/2" belt straps that fit our buckles:

.
Christian buckles. Western style buckles with Christian themes, including the cowboy with his horse, hat in hand, dismounted and kneeling at the cross, the Holy Spirit descending as a dove on Pentecost, and the three crosses of Calvary. Inspirational Bible verses inscribed on the back of each.
---