Strait City Trading is closed!
No more orders will be shipped. Many thanks for your business over the years!
Sequins, Beads & Foil, Sequined Ring Belts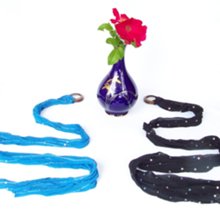 Here is a variety of bags, belts and sashes, some with scattered sequins for accent, others just covered with glittering colored sequins, some with interwoven foil thread, and some with beads of wood or gaudy colored plastic.
Crinkly chiffon ring belts. These sashes are embroidered with shiny metallic thread and AB reflective sequins. They are made from a hemmed swath of polyester 47" long and 8" wide, which is then crinkled and doubled over for an effective width between 1 and 2 inches. The mock tortoiseshell rings are 2" wide.
Click to enlarge these details:


---