Strait City Trading is closed!
No more orders will be shipped. Many thanks for your business over the years!
Leather Belts, Painted Cowhide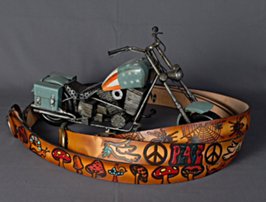 Strait City Trading's collection of men's and women's leather belts.
Design Belts. Solid cowhide belts with stamped and painted designs. Quality top grain leather and a choice of nickel or gold centerbar buckles. Buckles attached by snaps, so you can add your own buckle.
Sizing. Measurements refer to waist measurement. Waist measurement is the distance from the belt strap fold to the middle belt hole. Since these belts are solid leather, they can easily accomodate additional hole punches.
---