Shipping Pause
Strait City Trading will not be shipping during the two weeks starting May 9th and ending May 23rd. Email and phones will be monitored. Thank you for your business.
Leather Belts, Eyelets in Color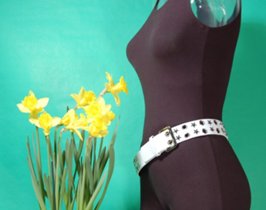 Strait City Trading's collection of straight ahead leather belts.
Colorful leather belts with double rows of metal eyelets. Double prong retangular nickle polish buckles. Eyelets also serve as buckle holes. Seven bright colors (while they last)!
More double eyelet belts may be found here:

, here:

and here:

.
Here is a size chart for double eyelet leather belts:

.
---