Shipping Pause
Strait City Trading will not be shipping during the two weeks starting May 9th and ending May 23rd. Email and phones will be monitored. Thank you for your business.
Fabric Belts, D-ring Stripes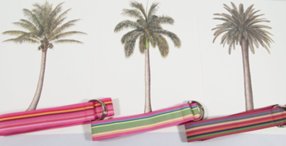 D-ring belts.
More than a dozen of banded, beaded and striped belts are available on this page.
Our D-ring web belts are 1-1/2 inches wide and come with double burnished steel D-ring buckles and metal tab. They are made from durable, light acrylic with a cotton feel.
Size chart for D-ring belts:

---