Strait City Trading is closed!
No more orders will be shipped. Many thanks for your business over the years!
Fabric Belts, D-ring Stripes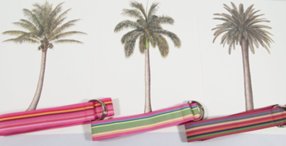 D-ring belts.
More than a dozen of banded, beaded and striped belts are available on this page.
Our D-ring web belts are 1-1/2 inches wide and come with double burnished steel D-ring buckles and metal tab. They are made from durable, light acrylic with a cotton feel.
Size chart for D-ring belts:

---