Shipping Pause
Strait City Trading will not be shipping during the two weeks starting May 9th and ending May 23rd. Email and phones will be monitored. Thank you for your business.
Leather Belts, Leather Backed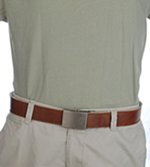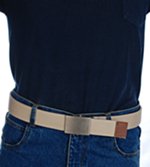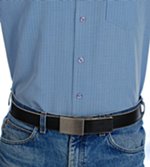 Heavy duty web belts with leather backing and big rectangular gunmetal roller buckles.
Given sizing on these belts is the length of the strap, not including the buckle, less about 5 inches.

reversible 1-1/2" wide military style belt with leather tipped heavy-duty beige webbing on one side, weathered brown leather on the other, serious 3 oz 2-1/4" by 1-3/4" face antique nickel slide lock buckle
Item
Color
Size
Price
Qty

reversible 1-1/2" wide military style belt with leather tipped heavy-duty beige webbing on one side, weathered black leather on the other, serious 3 oz 2-1/4" by 1-3/4" face antique nickel slide lock buckle
Item
Color
Size
Price
Qty
---