Possible Shipping Delays
Strait City Trading is moving a mile down the road this week and next. We expect some shipments to be delayed during the process. Posted July 29, 2020.
Men's Leather Belts, Loops and Braids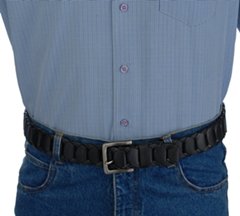 Braided and looped leather belts.
Moderately priced link and thong leather loop belts. Inexpensive belts of bonded leather braided in the Argentine style. Available in men's and boys' sizes. See additional notes and photos on these braided belts here:
braided belts notes
.
Also on this page leather belts with braiding along hip and leather belts with decorative "peanut" loops.
Sizing. Numerical sizes are waist sizes. Waist sizes are typically the length of the belt strap less 6 inches overhang. For belts with belt holes, this can vary an inch either way.
---