Strait City Trading is closed!
No more orders will be shipped. Many thanks for your business over the years!
Men's Leather Belts, Loops and Braids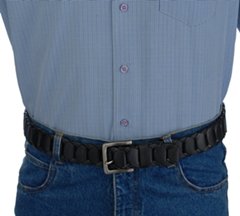 Braided and looped leather belts.
Moderately priced link and thong leather loop belts. Inexpensive belts of bonded leather braided in the Argentine style. Available in men's and boys' sizes. See additional notes and photos on these braided belts here:
braided belts notes
.
Also on this page leather belts with braiding along hip and leather belts with decorative "peanut" loops.
Sizing. Numerical sizes are waist sizes. Waist sizes are typically the length of the belt strap less 6 inches overhang. For belts with belt holes, this can vary an inch either way.

premium quality 1-1/8" brown braided leather dress belt; belt strap made from German bonded leather containing at least 60% leather fiber while buckle tabbing and retainer loop made from full grain leather, 1.9" by 1.6" rounded rectangular brushed nickel buckle
Item
Color
Size
Price
Qty

premium quality 1-1/8" black braided leather dress belt; belt strap made from German bonded leather containing at least 60% leather fiber while buckle tabbing and retainer loop made from full grain leather, 1.9" by 1.6" rounded rectangular brushed nickel buckle
Item
Color
Size
Price
Qty
---