Strait City Trading is closed!
No more orders will be shipped. Many thanks for your business over the years!
Fabric Belts, Military Basic Solids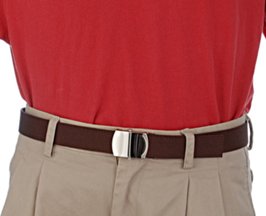 Military web belts.
Big selection of bright colors. These military belts are 1-1/4 inches wide and 56 inches long. They are easily cut to fit as illustrated in our
sizing guide
.
These belts come with a nickel polish military-style buckle and metal end tab. Any of the 1.25" military buckles in our military buckle section will also fit these belts.
The belt fabric is a durable, light acrylic fiber with a cotton feel (a tad harder and smoother, but close!).
Volume discount:
Buying for a group? Receive 20% off on orders of 10 or more of a color.

basic 1-1/4" military-style web belt, sandshell off-white with nickel polish buckle
Item
Color
Size
Price
Qty

basic 1-1/4" military style web belt, dark brown with nickel polish buckle
Item
Color
Size
Price
Qty

basic 1-1/4" military style web belt, steel gray with nickel polish buckle
Item
Color
Size
Price
Qty

basic 1-1/4" military style web belt, flint gray with nickel polish buckle
Item
Color
Size
Price
Qty

basic 1-1/4" military style web belt, nautical blue with nickel polish buckle
Item
Color
Size
Price
Qty

basic 1-1/4" military-style web belt, deep lavender with nickel polish buckle
Item
Color
Size
Price
Qty
---