Strait City Trading is closed!
No more orders will be shipped. Many thanks for your business over the years!
Men's Leather Belts, Solid Leather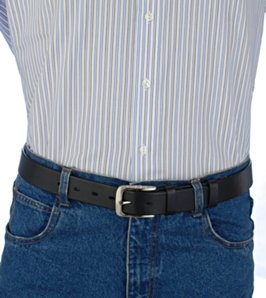 Genuine Leather Belts.
Single and double ply solid leather belts.
A head-to-head comparison of our medium oil tan single ply leather belt with a more expensive belt from a leading fast fashion company can be seen in the "cage match" below.
Sizing note: As indicated in the cart below, numerical belt sizes refer to the length of the belt from buckle attachment to the middle of the belt hole area. We recommend that a measurement be taken of belt that fits the recipient for comparison. Measure from the buckle attachment to the belt hole the recipient uses most often. Adjust for desired length of tail.
---