Possible Shipping Delays
Strait City Trading is moving a mile down the road this week and next. We expect some shipments to be delayed during the process. Posted July 29, 2020.
Men's Leather Belts, Concho Belts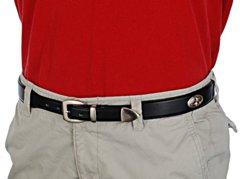 Concho Belts.
Leather belts with silver-tone tooled buckles, keepers, tips and conchos or medallions. Reminiscent of southwestern tradition of silver work and leather, but at a budget price.
Product Comparison. We bought a similar golfer's belt in Macy's department store and compared it to our own. See the details here: Concho belt comparison page.
Sizing note: Size is the length of the strap, not including the buckle, to the middle belt hole, pretty much. The buckles are a little small, so order 1 inch larger than your actual waist size. Holes extend 1.5" to either side of the middle hole on the plain concho belt (unusual) and 2" to either side of the middle hole on the golf concho belt (typical).
---