Strait City Trading is closed!
No more orders will be shipped. Many thanks for your business over the years!
Sequins, Beads & Foil, Crocheted Sequin Sashes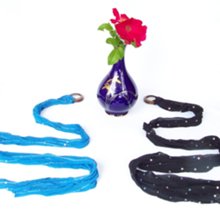 Here is a variety of bags, belts and sashes, some with scattered sequins for accent, others just covered with glittering colored sequins, some with interwoven foil thread, and some with beads of wood or gaudy colored plastic.
Shiny crochet netting beaded with sequins for sparkle, these sashes are belted about the waist or slung about the neck for a light scarf. Over 7' long with fringe, crushes to about 2" wide.
You may also be interested in our fishnet sequin scarves.

hunter green crocheted sequined net sash belt, 64" long plus 6" fringe at ends
Item
Color
Size
Price
Qty
---