Strait City Trading is closed!
No more orders will be shipped. Many thanks for your business over the years!
Urban Belt Buckles, Bats!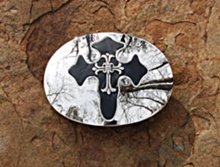 Click to browse our visual directory of belt buckles:

.
Click to browse our selection of 1-1/2" belt straps that fit our buckles:

.
Bat silhouette. Probably it's just the Batman phenom, but think how bats feature in horror movies and thrillers or how disconcerting these flitting insectivores are in reality, and there's something universal about this gothic icon.
---