Strait City Trading is closed!
No more orders will be shipped. Many thanks for your business over the years!
USA Buckles, Let's Rodeo!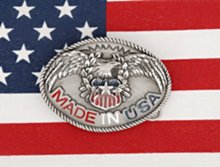 Buckles for 1-1/2 inch belts celebrating life in the USA, designed in the USA, made in the USA. Look here for western buckles, biker buckles, outdoorsman buckles, buckles that commemorate (or tease) southern heritage, native American heritage, Christian culture, and the US armed forces.
Click to browse our visual directory of belt buckles:

.
Click to browse our selection of 1-1/2" belt straps that fit our buckles:

.
Rodeo scenes: Western belt buckles: bull riders and bucking broncs.
---