USA Buckles, Western Life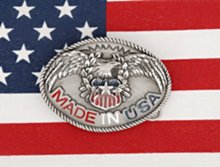 Buckles for 1-1/2 inch belts celebrating life in the USA, designed in the USA, made in the USA. Look here for western buckles, biker buckles, outdoorsman buckles, buckles that commemorate (or tease) southern heritage, native American heritage, Christian culture, and the US armed forces.
Click to browse our visual directory of belt buckles:

.
Click to browse our selection of 1-1/2" belt straps that fit our buckles:

.
Western Themes. Designs from the old west are featured on these buckles; cowboys and cowgirls, broncs and rodeo bulls, Texas stars, boots and spurs, tooled western saddles, line dancing and rope rimmed hearts.
---