Strait City Trading is closed!
No more orders will be shipped. Many thanks for your business over the years!
Men's Leather Belts, Reversible Belts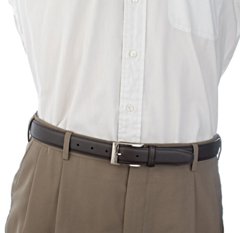 Reversible Belts.
Reversible belts are economical (two belts for the price of one); they are handy for travel (two belts in the space of one); and they are geeky (admit it, transformers are cool).
Modern technology and globalization combine to make an attractive, serviceable reversible leather belt available for $8. More information about the costs and benefits of budget leather belts may be found here: budget vs. premium belts.
---