Possible Shipping Delays
Strait City Trading is moving a mile down the road this week and next. We expect some shipments to be delayed during the process. Posted July 29, 2020.
Chain Belts, Colorful Flowers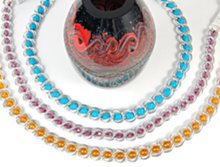 Chain belts.
All these belts present a bright gleam, a flash, a glint to accentuate movement and attract the eye.
Daisy Chain Belts. Bright colorful daisies alternate with engraved rings on these costume chain belts. The 3 flowers are 2-1/2 inches across, 16 petals of faceted acrylic, all but black with gleaming metallic sparkles. Flowerheads contain array of shining surfaces with color keyed aurora borealis coating.

(click to enlarge). The 6 metallic rings space the flowers and complete the front half of the belt, each 1-3/8" across with intricate scroll work for textured look.
(click to enlarge).
---