Strait City Trading is closed!
No more orders will be shipped. Many thanks for your business over the years!
Chain Belts, Colorful Flowers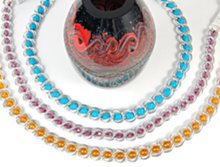 Chain belts.
All these belts present a bright gleam, a flash, a glint to accentuate movement and attract the eye.
Daisy Chain Belts. Bright colorful daisies alternate with engraved rings on these costume chain belts. The 3 flowers are 2-1/2 inches across, 16 petals of faceted acrylic, all but black with gleaming metallic sparkles. Flowerheads contain array of shining surfaces with color keyed aurora borealis coating.

(click to enlarge). The 6 metallic rings space the flowers and complete the front half of the belt, each 1-3/8" across with intricate scroll work for textured look.
(click to enlarge).
---