Belt Scarves, Chiffon, Diagonal Stripes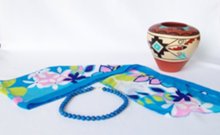 These sheer belt scarves are a long and narrow 7" by 58". Use this scarf to wrap around your head, adorn your neck, or sash whatever color about your waist as suits your fancy. They are 100% polyester with a nice "silk" feel.
Each of these scarves picks up an unbalanced stripe pattern, each in its own color theme.
---