Belt Scarves, Chiffon, Gossamer Solids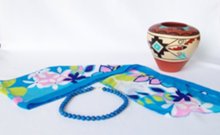 These sheer belt scarves are a long and narrow 7" by 58". Use this scarf to wrap around your head, adorn your neck, or sash whatever color about your waist as suits your fancy. They are 100% polyester with a nice "silk" feel.
The fabric for these scarves is a little different than the other chiffon scarves; it is a very thin open weave so that a single layer seems gauzy and nonreflective, but several layers induce deeper colors, lines and eye catching patterns, almost irridescent.
Volume discount. Buying for a group? Order 6 or more of any color and receive 20% off regular price for that color.
---