Strait City Trading is closed!
No more orders will be shipped. Many thanks for your business over the years!
Men's Leather Belts, Web and Leather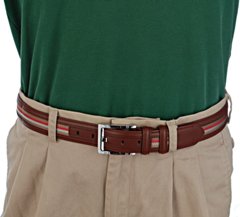 Fabric Inlay Belts.
Casual dress leather belts.
Genuine cowhide (no plastic or bonded leather).
Striped web trim, smooth, tough, attractive.
Bright stylish nickel polish buckles.
Good clean stitching.
Sliding second retainer loop.
Sizing note. Because of their modular buckles, these belts can be shortened if desired: when in doubt buy the larger size.
---