Strait City Trading is closed!
No more orders will be shipped. Many thanks for your business over the years!
Braided Stretch Belts, Extra Wide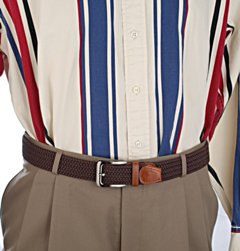 Wide Body Stretch.
Many men who like stretch belts like the extra "oomph" they get from a more substantial belt.
These belts are wider than our regular stretch belts, from just a hair to a full 1/8" wider. Our premium rayon belts feature full grain leather tabbing. The 3501 style features matching color split leather tabbing and brushed nickel buckles on black, beige, navy and brown belts.
Military/Utility Stretch Belts. 1-1/2" wide military-style elastic belts are here:

.
Sizing. Numbers refer to waist sizes. Actual belt length, without the buckle, is about 6 inches longer. There are no belt holes; the buckle prong slips through the braiding wherever desired. The stretch belt should fit if its size is within 2 inches of your own waist size. Illustrating graphic:

---