Braided Stretch Belts, Extra Wide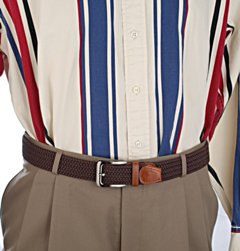 Wide Body Stretch.
Many men who like stretch belts like the extra "oomph" they get from a more substantial belt.
These belts are wider than our regular stretch belts, from just a hair to a full 1/8" wider. Except for the newly arrived black belt with all black tabbing, the extra wide belts come with a contrasting tan leather tabbing and a square-ish lacquered gray buckle.
We've got the basic four colors black, brown, beige and navy blue in regular sizes; black, brown and navy blue come in big and tall sizes as well.
Sizing. Numbers refer to waist sizes. Actual belt length, without the buckle, is about 6 inches longer. There are no belt holes; the buckle prong slips through the braiding wherever desired. The stretch belt should fit if its size is within 2 inches of your own waist size. Illustrating graphic:

premium brown braided stretch belt, extra wide: a full 1-3/8", dark tan full grain leather tabbing, rayon fabric for rich color and pleasant touch, polished dark gunmetal gray rectangular buckle, extra tight long-lasting elastic with leather folded over ends for trim appearance

Item
Color
Size
Price
Qty

premium black braided stretch belt, extra wide: a full 1-3/8", dark tan full grain leather tabbing, rayon fabric for rich color and pleasant touch, polished dark gunmetal gray rectangular buckle, extra tight long-lasting elastic with leather folded over ends for trim appearance

Item
Color
Size
Price
Qty
---