Strait City Trading is closed!
No more orders will be shipped. Many thanks for your business over the years!
Men's Leather Belts, Casual Dress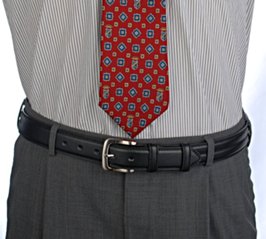 Ready for business or just looking your best, our leather dress belts for men will help without squeezing your wallet.
Modern technology and globalization combine to make an attractive, serviceable genuine leather belt available for less than $12 (often a lot less). More information about the costs and benefits of budget leather belts may be found here: budget vs. premium belts.
The casual dress belts shown here are cut just a little wider than our dress belts and yet look just a mite dressier than our men's casual and jean belts.
---