Shipping Pause
Strait City Trading will not be shipping during the two weeks starting May 9th and ending May 23rd. Email and phones will be monitored. Thank you for your business.
Web Belt Buckles, Cut Military Buckles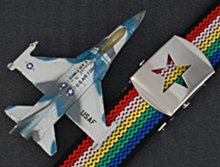 Military buckles.
For web belts. Both basic military roller buckles and open-face military cam buckles with "flip-top" open and close.
Buckles for both 1-1/2" and 1-1/4" belts. All are steel except for the solid brass buckle. Basic nickel polish and brass colors together with several alternative colors: black, antique brass and silver. And there are a few buckles with flames and glitter for the more adventurous.
Volume discount: buy 12 or more of a style and receive 15% off on that style.
Cut Military Buckles
---