USA Buckles, Leather Inlay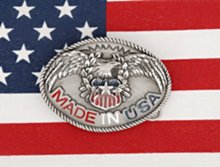 Buckles for 1-1/2 inch belts celebrating life in the USA, designed in the USA, made in the USA. Look here for western buckles, biker buckles, outdoorsman buckles, buckles that commemorate (or tease) southern heritage, native American heritage, Christian culture, and the US armed forces.
Click to browse our visual directory of belt buckles:

.
Click to browse our selection of 1-1/2" belt straps that fit our buckles:

.
Western buckles with painted and stamped leather inlay. We sell a number of leather buckles, but these are especially nice: top-grain leather stamped with a design and painted in rich color.
Each of these can be matched with a painted leather belt.

antique gold western buckle with inlaid top-grain leather badge, honey brown with red blue and yellow bird flying over "faith" banner, rectangular with rope-braid edge, 4 oz
Item
Color
Size
Price
Qty

antique gold western buckle with inlaid top-grain leather badge, fingers on burnt umber guitar frets with honey brown background, rectangular with rope-braid edge, 4 oz
Item
Color
Size
Price
Qty

antique gold western buckle with inlaid top-grain leather badge, burnt umber peace sign stamped into golden brown, rectangular with rope-braid edge, 4 oz
Item
Color
Size
Price
Qty
---