USA Buckles, Bikers Wings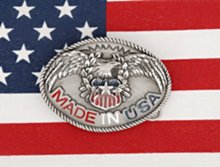 Buckles for 1-1/2 inch belts celebrating life in the USA, designed in the USA, made in the USA. Look here for western buckles, biker buckles, outdoorsman buckles, buckles that commemorate (or tease) southern heritage, native American heritage, Christian culture, and the US armed forces.
Click to browse our visual directory of belt buckles:

.
Click to browse our selection of 1-1/2" belt straps that fit our buckles:

.
Winged bikers buckles. Eagles, medallions, V-twin engines and Route 66 set against classic biker wings.
The wing style on these buckles is stylized, straighter than Harley Davidson or Victory wings, more reminiscent of rectangular 1930's eagles like those seen on the Missouri Pacific Railroad streamliners. The MP eagles also featured a central medallion--a design that later morphed into the "star and bars" insignia on US WWII aircraft in 1943.
---